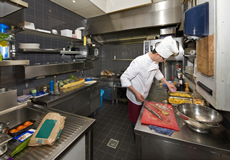 Fantastic fresh fruit and veg for restaurants
"Trees that are slow to grow bear the best fruit" (Moliere)
Back in the seventies the great British public didn't have a clue about fine cuisine. A bit slow on the uptake, we were just discovering prawn cocktail and coq au vin. Black Forest gateaux was the height of dessert sophistication and we approached wine with great caution.
Today we're comparatively food-aware and we have relatively sophisticated tastes. We know our brassicas! Fruit and veg for restaurants is no longer a matter of dumping a sack of spuds, ten cabbages and a ton of sprouts on the doorstep once a week. Restaurants – and their clientele - want much more; quality fruit and veg delivered each day, flexible ordering late into the night, fair prices and beautifully fresh produce.
Experts in beautifully fresh produce
Fruit and veg for restaurants. Can we do it? Yes we can! Almost a hundred years
in the wholesale fresh fruit and veg trade makes us experts in our field. We've weathered a century of social and cultural change, turmoil and world wars to emerge into the 21st century a highly successful family business with a heart. We don't just work with fruit and veg. We love it. It's in our bones.
Top class fruit and veg for restaurants
Chefs and Buyers know they can trust us - without question – to deliver the shiniest, freshest, firmest, most juicy fruits and vegetables. They demand top quality produce to create top quality cuisine in an extremely competitive market. We deliver.
It goes without saying that we take food hygiene and related matters very seriously indeed. We always work to HACCP (Hazard Analysis and Critical Control Point) standards, our industry's internationally recognised system for managing food safety.