5 a day fruit and veg made easy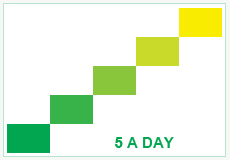 "A table, a chair, a bowl of fruit and a violin. What else does a man need to be happy?" Einstein.
Do you see five a day as a mountain or a molehill? Some people crunch their way through five fresh pieces of fruit or veg a day without so much as turning a hair. Others find the whole thing a challenge. But getting your 5 a day fruit and veg might be simpler than you think. Healthy eating is actually great fun once you get your teeth into it!
A huge variety of 5 a day fruit and veg options
For a start 5-a-day fruit and vegetables, once you understand the portions involved, isn't actually very much. The NHS recommends that a 'portion' is about 80g, just under 3 ounces in old money. And the world's your oyster… everything counts except potatoes and other starchy root vegetables like sweet potatoes, cassava and yams. So go graze on roots, shoots, leaves, fruits, rhizomes and beans. Give it two weeks and you'll start to feel great. Really great.
Don't be shy – test drive the weird and wonderful!
We always put UK growers first wherever we can. But some of our more exotic fruits and vegetables can only be grown in exotic places. If you're a lifelong fruit and veg novice, why not take a few risks? Test drive our range of weird and wonderful fruits and vegetables from around the globe to make your 5 a day fruit and veg challenging and fun.
Direct 5-a-day fruit and vegetables
Delivery makes life much easier! When you've got a regular delivery of fresh, firm, plump fruit and tangy, tasty vegetables at your fingertips you're more likely to eat, cook with and generally enjoy them!
We deliver daily throughout Berkshire, Sussex, Suffolk, Kent, Essex, Middlesex, Hertfordshire and Surrey.